NATIONAL INFORMATION
History:
Sigma Lambda Beta Fraternity is a social fraternity that was founded in 1986 at the University of Iowa. It is based on cultural understanding and wisdom. Most noteworthy is that 18 men of whom 16 were of Latin American or Hispanic origin/descent founded Sigma Lambda Beta.
Founding Fathers: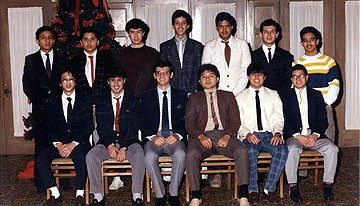 Photo containing 13 of the 18 founding fathers of Sigma Lambda Beta International Fraternity Inc.
Founding Father Baltazar Mendoza Madrigal
Founding Father Thomas Carasquillo
Founding Father Manuel Chavarria
Founding Father Luis Jimenez
Founding Father Luis Marquez
Founding Father Mario Buendia
Founding Father Enrique Carbajal
Founding Father Rudolfo Garza
Founding Father Jose Fong
Founding Father Eric Montes
Founding Father Olakunle Oyeyemi
Founding Father Kuy Ou
Founding Father Jaime Ramirez
Founding Father Olivero Rivera
Founding Father Juan Jose Rojas-Gardona
Founding Father Eugenio Soria
Founding Father Juan Valdez
Founding Father Ricardo Zamudio
Philosophy:
Sigma Lambda Beta International Fraternity Inc. believes in the principles of fairness, opportunity and in the equality of all men regardless of their race, culture or ethnicity. Our highest goal is to see that all of society can realize the importance of these three principles. In order to achieve this goal, we all strive as both individual brothers and as an international organization to role-model these behaviors and present ourselves in a gentlemanly and educated fashion. Our philosophy is best summarized by our motto: "Opportunity for Wisdom, Wisdom for Culture."
Mission:
It is the mission of Sigma Lambda Beta to recruit quality prospective members who are confident and not afraid to express or share their personal thoughts. They must be ready to grow not only as a person, but also as a brother of the Fraternity and a member of their community. As members, Brothers will learn to "open" their eyes and see the endless opportunities that are available to all people. Furthermore, they will share thoughts and ideas, and learn to recognize the potential that we, as a united whole, can and will exhibit in order to keep our shared values alive and working.
LOCATIONS OF SIGMA LAMBDA BETA CHAPTERS & COLONIES AS OF 2006:

Beta Facts:
Date Founded: April 4, 1986
Location: University of Iowa
Colors: Purple and White
Chartered Chapters: 83
Number of Colonies: 15
Number of Alumni Associations: 13
Flower: Red Carnation
Motto: "Opportunity for Wisdom, Wisdom for Culture"
Nickname: Lambda Betas (Betas)
Official Publication: Rego
Mascot: White Stallion Mustang
Philanthropies: Big Brothers/Big Sisters, Latino Vote USA, The Bro. Victor Correa CPR Awareness Day, Hero Street U.S.A.
Membership Requirements: Full-time enrollment in college with a minimum 2.5 grade point average.
National Website: www.sigmalambdabeta.com
National Telephone Number: 1-888-486-BETA
National Fax Number: (319) 626-7688